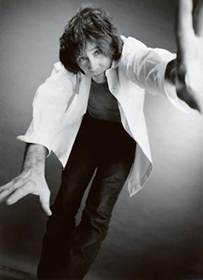 Photo by
Robert Tichy
Check out
Ivan's MySpace page
here.
Entire contents ©2010, Ivan Kral All Rights Reserved
Site design by Mike Gould, Mondodyne Web Works

The Official Ivan Král Site
Songwriter Ivan Král has composed Film Soundtracks, Movie Scores and Music for some of the world's most influential artists, including U2, David Bowie, Patti Smith, Iggy Pop, John Waite, Blank Generation, and others.

The Grammy Award-winning songwriter and producer's work is heard on radio, stage, films, TV and commercials around the world.
"When we met Ivan, it was like having a great hero come. We told him how much his music influenced us"
.....Bono; U2
"Ivan wrote some of our most beautiful songs".....Patti Smith
"He's very talented musically".....Iggy Pop
"I like Iggy's version of 'Bang Bang' better than mine".....David Bowie
Please read our Terms of Use and Privacy Statement.
Control background music here: